Day 1 :
Keynote Forum
Anhui Medical University,China
Time : 09:30-09:55

Biography:
Jilong Shen completed his PhD from Sun Yet-sen University School of Medicine of China in 1990 and studied as a visiting scholar at Teikyo University School of Medicine of Japan and at Case Western Reserve University School of Medicine of USA successively. He is the director of the Key Laboratory of Zoonoses and the Key Laboratory of Pathogen Biology of Anhui province. He has published more than 150 papers and currently works on the genotype-associated pathogenesis of Toxoplasma gondii.
Abstract:
Toxoplasma gondii is an obligatory intracellular protozoon capable of infecting a wide range of mammalian hosts including humans. It has been found that European and North American strains of the parasite show a clonal population structure with three distinct lineages(types I, II, and III) while strains isolated from animals and humans in South America present a high genetic diversity. The strains with these genotypes differ in virulence and in distinct host response due to the effectors polymorphisms of ROP16 and GRA15. We collected 59 strains of T. gondii from stray cats, free-range chicken, and pork in retail meat stores. The PCR-RFLP at 9 loci and microsatellite typing at 15 markers were used for genotyping; finally, seven genotypes were identified (type I, type II, ToxoDB#9, #203, #205, #213, and #215). We also found that the majority of isolates from both animals and humans (the cancer patients with a long term of chemotherapy) belong to type Chinese 1 (ToxoDB#9), acounting for 74.58%(44/59). Phenotypical examinations indicated a significantly different virulence in mice and parasite proliferation in cultures cells among the isolates with Chinese 1. Additionally, sequencing of effectors ROP16 and GRA 15 demonstrated that strains of Chinese 1 with different virulence share the ROP16I/III polymorphysm with type I/III and GRA15II with type II. Our results suggest that the genetic markers currently used for genotyping failed to identify the virulence of strains with Chinese 1, and it may have the pathogenesis different from that of the archetypal strains in European and North America.
Keynote Forum
Metropolitan University of Educational Sciences, Chile
Time : 09:55-10:20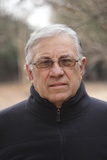 Biography:
Daniel Frías Lasserre has completed his Doctorate at the age of 36 years from University of Chile. Subsequently made improvement and research stays at the Smithsonian Institution in Washington DC, USA and in the University of Sao Paulo Brazil. He is past president of the Genetics Society of Chile and the Chilean Society of Entomology. He was Director of the Institute of Entomology and Director of Research of the Metropolitan University of Educational Sciences. He has published more than 48 papers in reputed journals, 2 books, 22 chapters of books and has been serving as an editorial board member of Chilean Journal of Agricultural Research.
Abstract:
In Chile, there are three endemic species of the genus Mepraia vectors of Trypanosoma cruzi, the causal agent of Chagas disease. In all these species, females are always wingless, but males can be winged or wingless according to species. The males of M. gajardoi they are always brachypterous. Males of M. parapatrica are braquipterous and macropterous and males of M. spinolai are macropterous, and also micropterous. Chromosome studies indicate that genes that govern the thoracic development and the development of the wings are located on the Y chromosome. A break of this holocentric chromosome would have giving rise to a Neo Y without the genetic information necessary to complete the development of the thorax and wings. This genomic event would explain the emergence of wingless males in M. spinolai. These species have a clinal distribution from north to south of Chile. This suggest a parapatric model of speciation. Thus, M. gajardoi is distributed in the coastal area of the regions XV and II of northern Chile. This is principally a sylvatic species that lives associated with seabirds, lizards, and wild rodents. M. parapatrica is distributed in the coastal area in region III and in the southern border the region II and also is associated with seabirds but also invades peridomestic habitats. M. spinolai distributed in interior valleys of Regions III, IV, V and in rural areas of Metropolitan region. This specie feeds mainly on small sylvatic mammals, invades the peridomestic habitats and also invades the human houses, especially in rural areas increasing the chances that these insects transmit T. cruzi to humans. In M. spinolai the frequency of micropterous and macropterous males depends according to the habitat where this species occurs. So in wild populations of Metropolitan region (Til-Til and Colina), the frequency of micropterous males is higher than in macropterous males. In contrast, in peridomestic habitat of region IV (Combarbalá), associated with goat pens, the frequency of macropterous males is greater than the frequency of micropterous males. Morphological analysis from the individuals of the collection of Institute of Entomology shows that the males collected inside of human houses in the Metropolitan region (Til-Til) and region IV (Combarbalá and Ovalle) indicates that are all macropterous. Similarly, male specimens were collected in 2012, 2013 and 2014 inside human habitation by staff of the Ministry of Health in the Region Metropolitan Region (TIL-Til), and also in Regions V, IV and III. These data show that from a total of 540 adults collected inside houses, 86.9 % are males winged and only 13.1 % are wingless (0.9 % are males micropterous and 12.2% females). The micropterous males are found almost exclusively in wild populations. This indicates a disruptive selection where the winged males migrate into human habitations and micropterous males remain in the wild populations. This situation is probably due to that the presence of wings implies a greater accumulation of heat, acting as a greenhouse effect. For this reason the winged males they go in search of cooler places inside houses where to take refuge and also can feed on blood human or domestic animals.
Keynote Forum
Alexandria University, Egypt
Time : 10:20-10:45

Biography:
Yehia Otify has completed his Bachelor of Veterinary Medical Science from Cairo University and his PhD from Alexandria University, Egypt. He did his Postdoctoral short visit at Ontario Veterinary College. He has been the Faculty of Veterinary Medicine in both Edinburgh and Glasgow Universities. He is the former Dean of the Faculty of Veterinary Medicine, Alexandria University and Group Leader of an international collaborated project (VMERGE). He has published 34 papers and is the author of Veterinary Parasitology (Arabic language text, 2011).
Abstract:
Parasite measurements could have been done with different programs, most of these programs applied while using optical microscope. They take more effort specially eyes attentiveness and that could consume more time and energy. A new method for measuring the size and different body dimensions of parasites, particles and other objects using optical microscope is available. It was developed using a specifically designed movable computer ruler (MCR) derived from digital images of a stage micrometer. Subsequently, MCR can be superimposed on images of parasites to measure their dimensions in microns. MCR derived from the stage micrometer under a particular objective lens can be used to measure the bodies' dimension of an object acquired by the same lens/microscope/camera system and the widely known Microsoft PowerPoint and MS Picture Manager programs. The user will be able to design his own MCR on his PC for each objective lens, e.g. MCRx4 to MCRx100, using each on the corresponding digital image taken by the same objective lens. The conditions are fixed for every superimposed image including width, height, pixel number and density. The MCR was tested using selected parasites, and shown to be as accurate as the ocular micrometer disc, screw micrometer eyepiece and image analysis software. Scale bar also will be easily created and attached to the image. The lower technical complexity and the precise measurements with MCR method makes it applicable even in laboratories with limited resources.
Break:
Coffee Break 10:45-11:00 @ Foyer